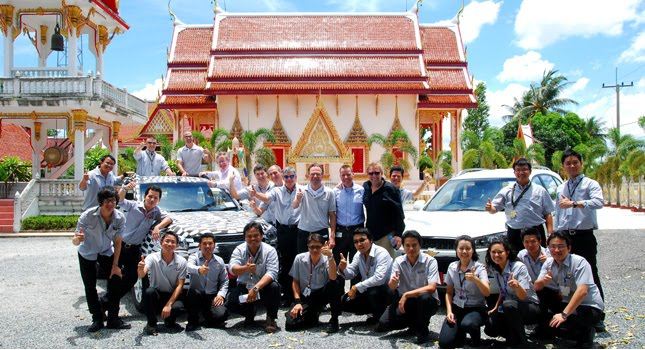 After traveling all around the world in concept format, the new 2012 Chevrolet Colorado pickup truck has entered the final testing phase in Thailand before the introduction of the production model that will go on sale towards the end of the year.
Today, General Motors released some new photos showing the prototype models being put through their paces as the company prepares to produce the midsize pickup in its Rayong assembly plant in Thailand.
The Detroit automaker said the Rayong manufacturing facility has undergone a $300 million upgrade, including a retooling of the entire vehicle assembly line, to build the new pickup truck.
"The hard work for this program has been done, and we are incredibly pleased with the results," said Chevrolet Colorado Chief Engineer, Roberto Rempel. "This is a world-class truck that will appeal to buyers not just in the heavily concentrated truck markets of Southeast Asia, but around the world.
GM says that the new Colorado will be sold in markets across Asia Pacific including Australia where Holden showed its own concept model, Africa, the Middle East and South America. Thailand will be the first market to receive the Colorado. No word if GM's future plans include the North American region.
While these photos don't reveal much about the appearance of the final production version of the Colorado, a completely undisguised prototype of the pickup truck was recently spotted unguarded at a parking lot in Thailand (click here to check out the photos).
At least for the Asia Pacific region, the new 2012 Chevrolet Colorado will be offered with newly developed 2.5-liter and 2.8-liter turbocharged diesel engines that will also be produced at an adjacent GM plant in Thailand.
Credit:
http://carscoop.blogspot.com/2011/09/gm-prepares-all-new-2012-chevrolet.html