Is Thailand a Third World country? If you walk into the Mandarin Oriental hotel in Bangkok, you would say no. Without the Thai signs and Thai workers, taking a stroll in the Emporium shopping complex is almost identical to taking a walk in any high-end shopping centre in Europe. But if you go to Klong Toey slum, there is no doubt that there are serious human and economic development issues in Thailand.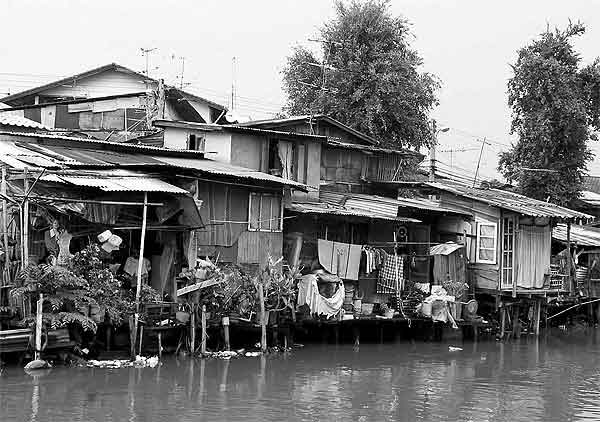 A slum along the Prem Pracha canal in Chatuchak district of Bangkok. Away from the posh multiplexes, malls and condominiums, there are hundreds of thousands living cramped lives.
There are many definitions of Third World. All of them relate to some kind of ranking system. The list comes in various categories, such as gross domestic product, poverty levels, economic development, political and civil liberties. Overall, it's a label. And for countries that do not stack well against others, it is a stigma.
There are heated debates on the internet whether Thailand is considered a Third World country. Some say that it is, while many would argue that it is not. Using economy criteria, we are competitive on the global scale. We have a decent economic growth rate. Recently, the US Central Intelligence Agency's World Fact Book lists our gross domestic product (purchasing power parity) as 25th in the world and our industrial production growth rate as 9th in the world right behind Japan at 8th.
However, there are troublesome areas that cloud our shining reputation, like human trafficking, political corruption, police violence and human rights. It's an eye-opening experience reading what other countries perceive as our societal flaws.
Despite all the discussion and debate, in our hearts we want to be perceived as competitive in the world's standings. Everyone knows that no country is perfect. Even top-rung countries like the United States, Switzerland, Ireland and Australia have their own problems.
The US has been dealing with human rights since it was a colony. Ireland has its own issues with violence against minorities and immigrants.
Regardless, criticism of human rights and corruption issues are especially hurtful to us. They directly insult the core of our Buddhist roots. It feels shameful that the world knows that we don't always do what we preach.
On an individual basis, most foreigners who have the opportunity to know Thai people generally have a positive opinion of us.
If you have foreign friends, they would say that Thai people are kind, warm, fun and quite possibly the world's best cooks. They would not believe that we are heartless and immoral or that we care nothing for fellow human beings as world opinion would lead them to believe.
But individual opinion cannot surmount world opinion. On the grand stage, the face of our society is more commonly played out in the international evening news. The days when we hid our domestic problems behind a language barrier have gone.
Last year, the world was stunned when Maj Gen Khattiya Sawasdipol was shot by a sniper during a press interview. The ramifications of this incident have burned into history. What kind of people would do such a thing? Are we so barbaric that we cannot sort out problems through peaceful means?
Incidents such as that assassination are proof that we, indeed, have earned the Third World title. It tells other nations that our peaceful Buddhist temples and five-star resorts are hiding places for thugs and goons. Many of us are tired of defending our country's reputation to foreigners. Some of us are so jaded that we have turned apologetic. We are so sorry for the uncharacteristic violence of our protesters, our military, and our elected officials. Please try your best to forget that it ever happened. By the way, have you ever been to Koh Samui? It's lovely this time of year.
Anyone else embarrassed, too?
Corruption and violence are expensive. In the short term, it may be profitable for the conspirators but it is never sustainable. One warlord killing another seems fair, but it actually costs bystanders lots of hospital bills and damage to property.
Corruption creates a damaging pattern in government because we are so busy dealing with it that our efforts are not spent on improving system efficiency.
Human trafficking is abhorrent. The industry spreads diseases, breeds lawlessness and increases the burden on society.
The people who run brothels expose themselves to other criminals and drug violence. And those who utilise brothels risk serious life-long health problems like hepatitis and HIV. When will the offenders and enablers open their eyes?
Secret deals and dishonest financing are bad ideas. If accounting doesn't show accurate figures, even the crooks themselves won't know how much money they have embezzled. Open accounting and audits are a good thing. Because when the figures are true, it is possible to make a better investment judgement and gain more profit.
A perfect reputation does not exist. A more realistic goal is to accumulate more good things than bad. Our Buddhist ways have groomed our nature to accept what life has handed us. So we opt to adapt and tolerate the conditions in our society. This philosophy may work well for coping with grief and hardship. But if we always accept our fate, how are we to make changes for the better?
To be recognised as First World will take lots of effort, patience, determination and perseverance over generations of Thai people. The difficulties of the challenge will depend, not on those who destroy our reputation, but on how much the rest of us want it back.
Credit to,
Prapai Kraisornkovit is Lifestyle Editor, Bangkok Post.